About Us
Professional Administrative Specialists, Inc. was established in 1998 to assist businesses and organizations to implement or improve the necessary accounting procedures for their company. Our mission is very straightforward.
"To help our clients concentrate their efforts on increasing their business
by providing efficient and proper accounting functions"
No business owner wants to spend valuable time working on accounting and administrative work when they could be generating ideas and products into profits. Yet proper accounting and administrative organization are a vital part of any successful business.
Margaret Pas margaret@proadmininc.com
President – Certified QuickBooks Pro Advisor
Margaret Pas began her finance career in 1974. Since then she has worked in a variety of fields including Investment Banking in New York and Los Angeles. She specializes in Accounting and Bookkeeping, Training and Office Management.
In 1998 Margaret founded and is President of Professional Administrative Specialists Inc. With certifications in QuickBooks and Microsoft applications her passion is teaching, whether in a classroom, seminar or one on one. She has hands on QuickBooks experience since 1992 and has been certified since 2007. Her knowledge of accounting and applications helps clients transition quickly to being fully functional.
From the initial meeting to the final entry, Margaret works closely with personnel, management and owners to make sure everyone gets the information they need. She provides the necessary training to maintain the systems implemented and provides ongoing support. She coaches owners on how to read and understand their financial statements and serves as a liaison with their CPAs, state and federal agencies, if necessary.
Margaret is an active member of The American Institute of Professional Bookkeepers and has served as a Guardian Ad Litem volunteer in Seminole County.
Originally from New York, she spent several years in Los Angeles before settling in Orlando in 1989. She has 2 daughters and a granddaughter and enjoys the Florida lifestyle.
"I believe in helping others and making a difference in their lives. I get personal satisfaction from hearing a business owner tell us that we've helped to save their business. At that point I know that I'm impacting not only their business, but their family and their future as well."
Melanie A. Ingham melanie@proadmininc.com
Manager/Payroll Consultant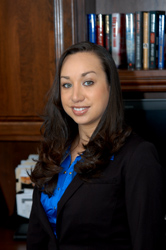 She coaches owners on how to read and understand financial statements and serves as a liaison with CPAs, state and federal agencies, if necessary. Melanie is a magna cum laude graduate with a bachelor of Psychology from the University of Central Florida. She has also earned a minor in Public Health with a 4.0 GPA from the University of South Florida. Melanie is committed to continual education on the latest technologies and concepts to better serve her clients.
Melanie joined Professional Administrative Specialists in 2006 and has since grown the payroll services into a new division of the company. As a bookkeeping professional since 1996 her motto is clear. "I believe that complete organization in all areas of accounting helps to produce the desired success for any business."
Melanie's projects include several reconstructions of companies' financials along with complete office organization. She provides forensic accounting skills in situations where misappropriation is suspected.
Melanie and her husband are residents of Sanford and enjoy spending time with their daughter.